On this page, you will find a short and to the point review of the Bosch Universal Plus Kitchen Machine. In this review, we will try to mention the major pros and cons of this versatile kitchen machine, the main features of it, some useful opinions from several customers who purchased it, and other important details.
If you arrived here in order to find special discounts for the Bosch Universal Plus Kitchen Machine then simply Click Here to get this machine at the best price we have found on the web!
Product Details And Most Helpful Customer Reviews
In A Few Words
The Bosch Universal Plus Kitchen Machine can be anything you want — a food processor, a blender, a grinder or even a juicer. This versatile kitchen machine features an 800-watt motor and four speed settings plus an impulse plus momentary switch. The "slow speed" setting is slower and the "high speed" setting is quicker than its predecessor. The Bosch Universal Plus Kitchen Machine comes with a 6.5-quart large-capacity mixing bowl that can accommodate more dough this time. This is suitable for both large and small quantities, and it has a wide range of optional attachments, like Small batch kneading attachments.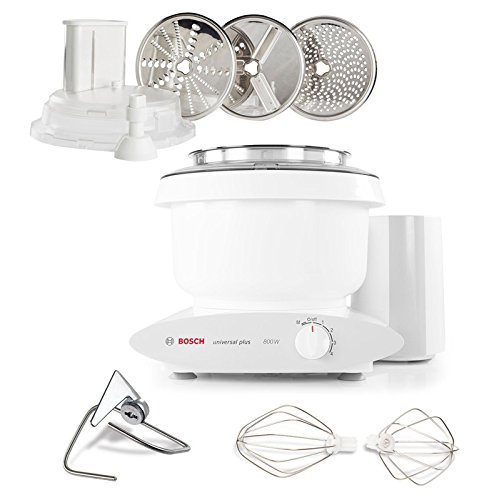 The Universal Plus comes with wire whips, dishwasher-safe whisk holder, lid, cover, bowl and blender locking systems, splash ring, and dough hook, which perfectly simulates real hand kneading and creates gluten quick. It is also important to note that the Bosch Universal Plus Kitchen Machine is backed by a three-year motor/transmission warranty.
General details
Product Dimensions: 11 x 12 x 15 inches ; 12.3 pounds
Shipping Weight: 12 pounds
Pros And Cons
The Pros
This model has a good reputation for being long-lasting and never shutting or slowing down despite heavy use. It is made from sturdy plastic that makes this machine light in weight. It is easy to clean. With the exception of the dough hook, every part of this model is dishwasher-safe. It does an amazing job of kneading bread. We're even tempted to say that it does a job better than a dedicated bread machine.
The splash cover ensures that nothing splatters out of the bowl and keeps filth and hair away from the bowl. It comes with two mixers, thus it can do the job faster. This is a real monster. It can mix whole wheat dough that's good for 3 to 8 loaves without problems.
The Cons
It's quite difficult to make small batches using this machine. The optional attachments can be expensive. The small hole in the small removable top allows stuff to come out when the machine is in use.
Should You Get This Versatile Kitchen Machine?
Overall, the Bosch Universal Plus Kitchen Machine proves to be a great option. It has all the features and attachments that its competitors also offer, and this model does the work faster and more efficiently than the previous model.
It's also heavy duty and doesn't "complain" when subjected to heavy use, and we really like that it's easy to clean, lightweight, great at kneading bread, solidly built, and has numerous attachments available.
It's not free from downsides, but all of the cons reported are not deal-breakers.
The Bottom line
We will highly recommend the Bosch Universal Plus Kitchen Machine for anyone who wants a versatile kitchen machine that gives great value for the money and can last for many years.
Click Here To Learn More About The Bosch Universal Plus Kitchen Machine And To See The Lowest Price We Have Found For It Now!
More Recommended Products For You
Bosch Universal Plus Food Processor Attachment for Universal Plus Mixer
Amazing Cookbooks to Get Started with