On this page you will find short and to the point review of the KitchenAid KV25GOXER Professional 5 Plus Stand Mixer (5-Quart).In this review, we will try to mention the major pros and cons of this mixer, the main features of it, some useful opinions from several customers who purchased it, and other important details.
If you arrived here in order to find special discounts for the KitchenAid KV25GOXER Stand Mixer then simply Click Here to get this stand mixer at the best price we have found on the web!
Product Details And Most Helpful Customer Reviews
In A Few Words
The KitchenAid KV25GOXER Professional 5 Plus Stand Mixer is able to effectively handle heavy and large volume mixtures with the help of its 450-watt motor with a direct-drive all-metal gear. Unlike other mixers, the KV25GOXER's 5-quart stainless steel bowl – which is dishwasher-safe, by the way – stays in place while the flat beater spins clockwise and the beater shaft goes in the opposite direction. This allows the flat beater to move to 67 different positions around the bowl.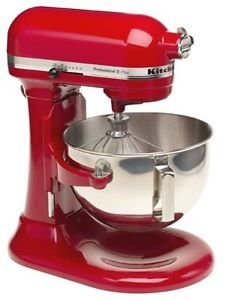 The mixing bowl is held in place through its brackets, which attach to two support pins on the mixer stand. Then, it's raised by a handle found on the bowl's right. Other important features of the KV25GOXER are:
Three attachments: flat beater, wire whip, and spiral dough hook (all dishwasher safe)
A hinged attachment hub for easy accessory installation
Soft-Start feature, which allows gradual speed shifting
A speed sensor that ensures constant speed
This model measures 16 ½ inches by 12 inches by 14 inches, and it comes with a one-year manufacturer's warranty.
General Details
Product Dimensions: 19.5 x 17 x 13.1 inches
Shipping Weight: 29 pounds
Pros And Cons
The Pros
It is incredibly quiet for a powerful mixer.
Cleaning it is a breeze. Thankfully, you can just use a dishwasher for cleaning its attachments and bowl.
The Slow-Start feature helps a lot in keeping your kitchen or preparation area clean when trying to mix flour and other ingredients.
It is powerful enough to handle heavy and large mixtures.
Mixes thoroughly and fast, which prevents overheating.
It looks sleek, and it helps that it comes in a variety of styles and colors.
KitchenAid stands by its warranty. Just clearly explain the reason for the return, and they'll immediately send you a new mixer.
The Cons
At around $300, it is quite expensive (but it pays for itself in the long run).
It is quite tall and large, so it may not be suited for homeowners with limited kitchen space.
It is difficult to get a good angle to scrape mixtures off the beater.
Should You Get This Stand Mixer?
It's quite pricey, but the KitchenAid KV25GOXER Professional 5 Plus Stand Mixer is a great investment. We really like that it has enough power to do all types of mixing jobs, from beating egg whites to mixing mashed potatoes and down to kneading dough. In terms of performance, there's very little to complain about the KV25GOXER, and it's also good to know that it's easy to clean it after use.
All in all, if you're a serious baker who frequently uses stand mixers, or if you simply want to enjoy a high-quality mixer that won't let you down, then we would definitely recommend the KitchenAid KV25GOXER Professional 5 Plus Stand Mixer to you.
Click Here To Learn More About The KitchenAid KV25GOXER And To See The Lowest Price We Have Found For It Now!
More Recommended Products For You
New Metro Design Beater Blade for KitchenAid 5-Quart Bowl Lift white with Red Blades
KitchenAid KSM500PSSM Pro 500 Series 10-Speed 5-Quart Stand Mixer Silver Metallic
KitchenAid FPPA Mixer Attachment Pack for Stand Mixers