On this page you will find short and to the point review of the Ninja Mega Kitchen System (Model: BL771). In this review we will try to mention the major pros and cons of this kitchen system, the main features of it, some useful opinions from several customers who purchased it and other important details. If you arrived here in order to find special discounts for the Ninja Mega Kitchen System then simply Click Here to get this kitchen system at the best price we have found on the web!
Product Details And Most Helpful Customer Reviews
In A Few Words
The Ninja Mega Kitchen System is a great partner for people who are living healthy and have active lifestyles. This product allows you to create your choice of healthy drinks and meal each day by using his 2-horsepower (1500 watts) blender with an 8-cup food processor and blade that can effortlessly mix up to 2 pounds of dough in just 30 seconds!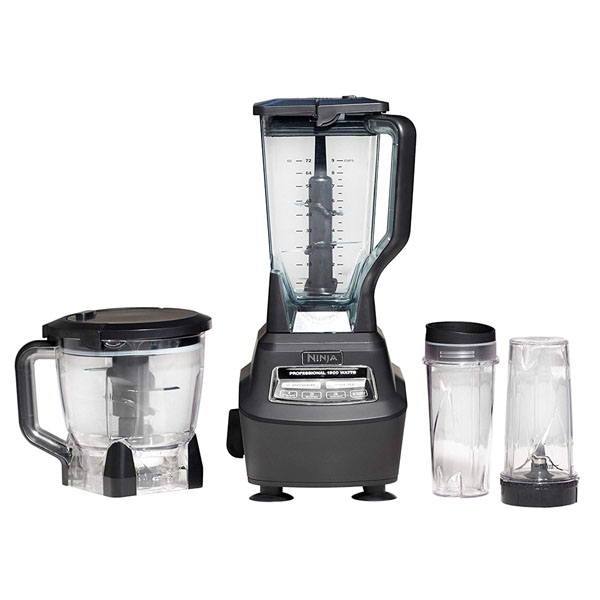 The Ninja Mega Kitchen System is armed with sharp blades and extra large 72-ounce pitcher for optimal blending capability. It can crush ice into very fine particles, so you can enjoy any resort-style frozen drinks, like your favorite fruit/veggie smoothie recipe.
All parts of this blender are guaranteed BPA-free for safer food preparation and dishwasher safe. The suction cups on the blender's base keep it firmly locked on the counter for greater stability.It is equipped with 3 speed options (Single Serve, Dough and Blend) plus Pulse. Each unit includes 3-cup bowl in bowl with blade, 16-ounce single-serve cups for blending, and tight-fitting lid, and one blade assembly.
General Details
Product Dimensions: 10.8 x 19.6 x 15.5 inches ; 16.2 pounds
Shipping Weight: 17 pounds
Pros And Cons
The Pros
It does a great job of crushing ice. It has a sturdy construction that's great with repeated heavy use.
To avoid mess and ensure your safety, this blender doesn't operate if the lid is not placed properly.
It has varied attachments and super sharp blades to match your meal preparation needs.
Really blends food well, especially when it comes to fruits, butter, ice cream, and humus.
It is a powerful heavy-duty blender that can handle large volumes of ingredients without much problem.
The Cons
It's quite big, so expect that it'll take up storage space.
Some consumers say it doesn't do particularly well in blending fibrous fruits and veggies.
It has a small recipe booklet with 60+ recipes, half of which are smoothie recipes.
It can be noisy, especially when crushing ice.
Should You Get The Ninja Mega Kitchen System?
The Ninja Mega Kitchen System is a bit on the pricey side, but you do get a quality product in exchange. What's great about this system is that it comes with different types of containers, blades, and other attachments, which really come useful if you experiment or make a lot of meals or healthy drinks.
It does pretty well in blending fruits, berries, yogurt, and protein shakes. It also crushes ice superbly. For tree huggers, however, you might not like the pulpy texture it produces when blending seeds, berries, and other fibrous ingredients.
Overall, the Ninja Mega Kitchen System can be a great product for you if you look for a high quality "mega kitchen system" for making all your healthy drinks and meals easily.
Click Here To Learn More About The Ninja Mega Kitchen System And To See The Lowest Price We Have Found For It Now!
More Recommended Products For You
Ninja BL770 MEGA Blender with Single Serve
Ninja BL660 Professional Blender with Single Serve
The Smoothie Recipe Book: 150 Smoothie Recipes Including Smoothies for Weight Loss and Smoothies for Optimum Health
Ninja Blender Recipe Bible: 50+ Delicious Recipes for your High Powered Blender
Superfood Smoothies: 100 Delicious, Energizing & Nutrient-dense Recipes (Julie Morris's Superfoods)