On this page, you will find a short and to the point review of the KRUPS EA82 Espresseria Fully Automatic Espresso Machine. In this review, we will try to mention the major pros and cons of this automatic espresso machine. The main features of it, some useful opinions from several customers who purchased it and other important details.
If you arrived here in order to find special discounts for the KRUPS Espresseria Fully Automatic Espresso Machine then simply Click Here to get this espresso machine at the best price we have found on the web!
Product Details And Most Helpful Customer Reviews
In A Few Words
If you want to get all your favorite hot beverages, whether it's hot choco, rich cappuccinos, or a perfectly blended espresso, every time you want, then the KRUPS EA82 Espresseria Fully Automatic Espresso Machine can be a great solution for you. This machine features a patented technology, which ensures faster preheating time, consistent temperature, and (almost) flawless tamping.
Its metallic conical burr grinder will make sure the coffee beans are grinded inconsistent sizes and you can choose between the fine grind and coarse grind settings.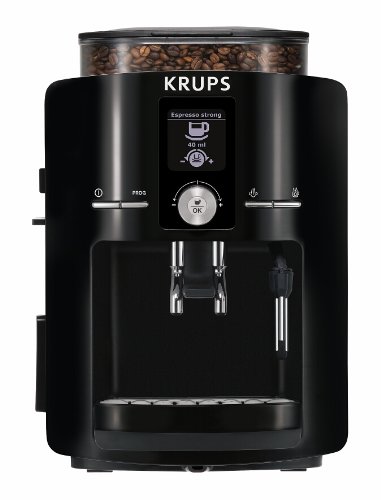 Meanwhile, the intuitive LCD screen and ergonomic knob will walk you through the entire process. it easier for you to go through the menu and pick your favorite recipe, the number of cups you like, and so on.
The KRUPS EA82 has a huge bean hopper for keeping your coffee beans fresh for as long as possible. It also features a 60-ounce (1.8 liters) detachable water tank, stainless steel milk frothing bottle, detachable dip tray, empty-tank detection function, steam wand, and cleaning accessories (XS3000 cleaning tablets, F088 water filter, XS9000 liquid cleaner, and F054 descaling powder). It is also important to note that the KRUPS EA82 is a 1450-watt machine and it comes with a two-year worldwide warranty.
General Details
Product Dimensions: 11.5 x 8 x 12.5 inches ; 10.4 pounds
Shipping Weight: 23 pounds
Pros And Cons
The Pros
This machine doesn't need to clean only needs complete cleaning on every 360th cycle of its auto-cleaning feature. It's really fasts, around 2 minutes or less.
It produces really creamy, strong, and richly flavored coffee every single time. It is quality tested before it is shipped to customers. Very easy to set up and navigate thanks to its easy-to-understand LCD screen and user manual.
The steam wand is fully adjustable and creates a perfect froth. It is an all-in-one machine – it cleans itself and stores, processes, and disposes of coffee beans without requiring outside water lines.
The Cons
This espresso machine will definitely cost you a lot of money.
You'll need to replace the water filters, which could cost between $18 and $20 per piece, more or less, every two months.
Some parts are made from plastic, like the coffee nozzles. Which got some consumers worrying about damage due to exposure to high heat.
Should You Get This Automatic Espresso Machine?
Well, yes, it is expensive. However, we perfectly understand why it costs that much. This made-in-France espresso machine does its job excellently. It's easy to set up and clean, produces tasty and perfectly blended hot drinks every time, brews fast, and contains all the right features you'll need from a high-quality espresso machine.
It is also nice to know that the manufacturer quality tests their machines before they shipped them. So don't worry about the traces of coffee grinds in your machine.
All in all, if you're a coffee aficionado and you have the extra money. We feel confident you'll love the KRUPS EA82 Espresseria Fully Automatic Espresso Machine.
Click Here To Learn More About The KRUPS Espresseria Fully Automatic Espresso Machine And To See The Lowest Price We Have Found For It Now!
More Recommended Products For You
KRUPS F088 Water Filtration Cartridge for KRUPS Precise Tamp Espresso Machines and KRUPS Fully Automatic Machines White
Philips Saeco HD8833/47 Syntia Automatic Espresso Machine Black
Lavazza Super Crema Espresso Whole Bean Coffee 2.2-Pound Bag
Nespresso D121-US-BK-NE1 Citiz Espresso Maker