Rice Cookers come in different sizes, brands, and quality. Each of them has a specific task they perform. The presence of a rice cooker in the kitchen eases the stress you have to pass through when preparing meals. Depending on the size and brand, they can be purchased at an affordable amount. Some of the varieties of rice cookers include;
Instant Pot Programmable Electric Pressure Pot
This appliance is good for someone that doesn't cook rice on a daily basis because they also serve other purposes. It can use for pressure cooking and slow cooking. The new and updated model can use for cooking an egg. It can be used for cakes like cheesecake or banana bread. It can be either automatic or manual. The cooking pot is made of stainless steel so it can be easily washed.
Best Price Here
Fuzzy Logic Rice Cooker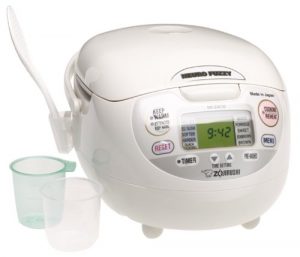 This is a smart rice cooker that can adjust its power depending on the quantity of rice being cooked. It is the best solid rice cooker that fits in almost every kitchen. They cook rice perfectly well for the family without taking much time. Apart from the fact that the cooker is a smart model, the controls are very simple to use, they have icons on the buttons for selecting white rice, brown rice, porridge or soup, or the quick-cooking or steaming setting. It has an automatic shut down and can keep rice warm for up to 12 hours after it has been cooked. They also come with a steaming basket, rice paddle, and a measuring cup with a power cord that is detachable for safety and storage. The interior bowl also has a nonstick coating for easy cleaning.
Zojirushi NS-ZCC18 10-Cup Neuro Fuzzy Rice Cooker Review
Zojirushi 5-1/2-Cup Rice Cooker & Warmer NS-ZCC10 Review
Best Price Here
Hamilton Beach Rice Cooker
This rice cooker is affordable and wallet-friendly. It encompasses a basket for rinsing rice and steaming the food. Its removable nonstick cooking pot makes cleaning it easier. Its operation is easy and it automatically switches to a warm setting when the food is done so it can be cooking at a low temperature before the food is served. Apart from making rice, it can be used for steaming vegetables or fish. For easy cleaning, both the cooking bowl and steaming basket are dishwasher safe, while the lid is removable for hand washing.
Best Price Here
Induction Heating Rice Cooker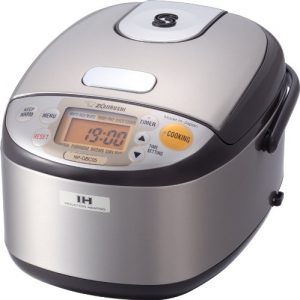 This is for those who eat a lot of rice. Its use of induction for cooking helps to heat the bottom, sides, and lid of the pan and it can adjust to the cooking temperature to make perfect rice. The cooker has settings for different types of rice and it comprises of two keep warm settings, one is used to hold rice for a short time while the other is used to hold rice and keep it warm for a period longer than eight hours. The cooker has a non-stick coating which makes cleaning easy. Although it is slightly more expensive than some, it is worth the pay.
Best Price Here
These rice cookers are recommended for every rice lover. One amazing thing about them is that it cooks you other foods apart from rice. That way, you get more bang for your buck.
See all our Rice Cookers Reviews Here.
What other kitchen appliances or rice cookers do you use in your homes? Leave a comment below.