You will find a short and to the point review of the Zojirushi NP-HBC10 5.5 Cup (Uncooked) Rice Cooker and Warmer. In this review, we will try to mention the major pros and cons of this rice cooker. The main features, and some useful opinions from several customers who purchased it, and other important details.
If you arrived here in order to find special discounts for the Zojirushi NP-HBC10 then simply Click Here to get this rice cooker at the best price we have found on the web!
Product Details and Most Helpful Customer Reviews
In A Few Words
The Zojirushi NP-HBC10 5.5 Cup (Uncooked) rice cooker and warmer is a popular cooker these days that passed the FCC standards and comes with a spatula, spatula holder, and measuring cup. Unlike your ordinary rice cookers, the Zojirushi NP-HBC10 is equipped with microcomputer technology, so it can fine-tune its temperature and timing settings to suit the type of rice being cooked, and the Induction Heating System allows heat to evenly circulate inside the cooking pan.
The Zojirushi NP-HBC10 rice cooker offers different cooking options for different types of rice, like white (regular, softer, and harder), quick cooking, porridge, sweet rice, sushi, and mixed. In addition, it also has menu options for brown rice and GABA brown rice, which is cooked just enough to bring out its nutritional properties. This rice cooker also comes with a removable inner lid for easy cleaning, a clear LCD control display screen with clock and timer, delay timer with two settings, removable power cord, keep-warm, and extended-keep-warm features, and audio indicator to signal the end of each cooking cycle.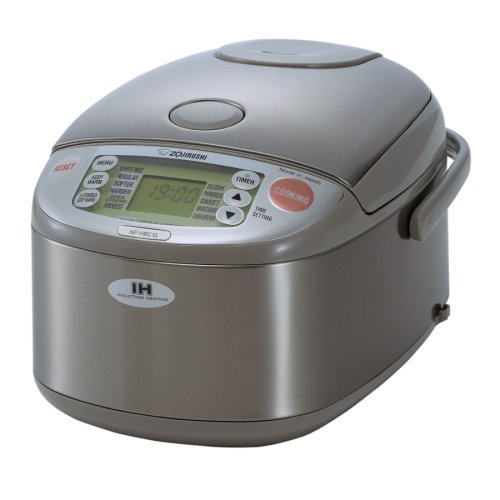 General Details
Product Dimensions: 10 x 14 x 8 inches ; 10.1 pounds
Shipping Weight: 11 pounds
Manufacturer: Zojirushi
Pros and Cons
The Pros
Thanks to its induction heating system and a built-in microprocessor, you can enjoy evenly cooked and delicious rice every time.
The Zojirushi NP-HBC10 is able to cook a variety of rice types, including brown rice and GABA brown rice while "activating" their nutritional properties.
If you're the forgetful type, fortunately, it can remember your last timer settings for you.
It is effortless to use.
Reading the manual is helpful, but it's really not necessary to operate this appliance.
It has a backup lithium battery which is great to have just in case you accidentally unplug your rice cooker or in the case of power failure.
Zojirushi always has a great customer service team on standby.
Its stainless steel finishing and other assembly are easy to clean up.
The Cons
Be careful when setting the timer because it's programmed in military time only.
The same models with white exterior options often cost less than those with stainless steel finishing, including the Zojirushi NP-HBC10.
It could use a cool-to-touch handle.
Should You Get This Rice Cooker?
Overall, the Zojirushi NP-HBC10 5.5 Cup (Uncooked) rice cooker and warmer are highly recommended. It is built with quality and well-equipped with a lot of advanced features as it should be for the price. Though it has its own set of downsides, it doesn't really overwhelm the many great benefits that this product offers to the public. The Zojirushi NP-HBC10 5.5 Cup (Uncooked) rice cooker and warmer is especially great for average-sized families composed of four members. This rice cooker and warmer can cook a variety of rice and soup recipes without much problem and we really like that it's dependable, easy to clean and use, and looks great with just about any kitchen decor. All in all, the Zojirushi NP-HBC10 is absolutely a great rice cooker that won't let you down…
Click Here To Learn More About The Zojirushi NP-HBC10 Rice Cooker And To See The Lowest Price We Have Found For It Now!
More Recommended Products For You
Zojirushi NS-TSC10 5-1/2-Cup (Uncooked) Micom Rice Cooker and Warmer 1.0-Liter
Zojirushi NS-TSC18 10-Cup (Uncooked) Micom Rice Cooker and Warmer 1.8-Liters
The Ultimate Rice Cooker Cookbook – Rev: 250 No-Fail Recipes for Pilafs Risottos Polenta Chilis Soups Porridges Puddings and More fro